Diversifying in the Brave New World of Crypto
December 03, 2021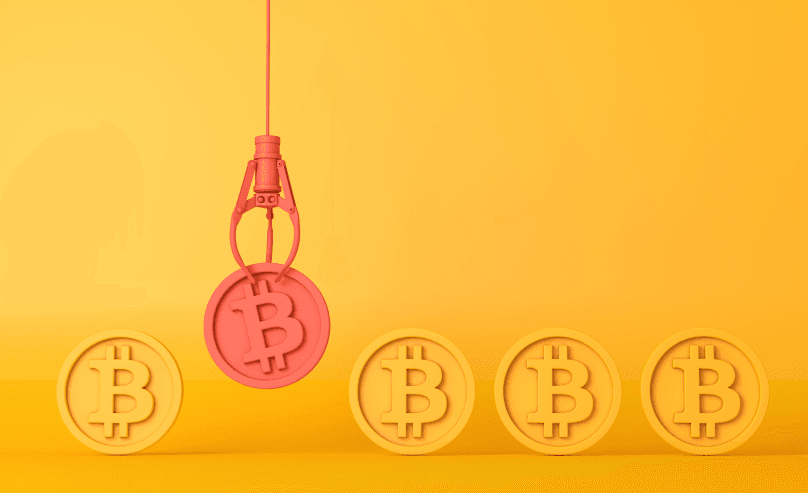 It was barely two decades ago when a shadowy entity (we don't know if it's a person or group) who went by the moniker of Satoshi Nakamoto created and air-dropped the first cryptocurrency—Bitcoin. Jumping to the present day, there are now over 10,000 cryptocurrencies in existence. That's a huge leap in interest and investment in such a short amount of time. And we're still at the beginning of this emergence.

Beyond the original motivation that birthed the crypto industry, specifically, to create an alternative form of money, its technologies became potentially applicable to virtually all industries, including finance, healthcare, energy, retail, and more. Crypto is no longer just a monetary phenomenon. It's laid out a new type of digital infrastructure; one that can change the way industries do business. Should they be adopted, we're looking at potentially billions in capital invested into crypto.

Anticipating the winds of change, financial companies have begun pouring in more than a chunk of change into crypto platforms, exchanges, and crypto-related services. Sure, bitcoin and other crypto plunged steeply in 2018, but investment quietly continued through it all. Tesla, BlackRock, PayPal, Square, and Visa began their slow build outs and adoptions. In a matter of just two years from the big Crypto Crash, Bitcoin and Ethereum futures began to trade at the Chicago Mercantile Exchange.

And now, it appears that crypto's emergence has grown stronger than most have expected. Maybe it's time to ask what place crypto has in your portfolio. And if you decide to go forward into this nascent space, how might you diversify your mix to include this highly speculative asset?
Rise of the Cryptoassets
Before we explore how cryptocurrencies might fit into your portfolio, let's first define what people mean when they say "crypto," as it may mean something different depending on who you're talking to.

A Kind of Money
Many of the original HODLers (long-term holders, in crypto-speak) believe certain crypto will eventually be adopted as an alternative "currency" sometime in the future. While Bitcoin is accepted as legal tender in El Salvador, no other country recognizes it as legitimate money. However, some businesses accept certain crypto as payment. And by virtue of this act, some crypto are exchangeable as "money" even though it may not be "legal tender."

A New Asset
Most crypto traders and investors see crypto as an alternative speculative asset. This makes crypto, in their eyes, similar to gold, silver, jewelry, and other "collectibles." To this, it's clear that a number of cryptocurrencies have been rising in value due to both retail and institutional investment. So, yes, crypto is a speculative asset despite its non-adoption as currency. This makes crypto something of a "store of value" that can sit in a portfolio alongside other investments.

A Revolutionary Technology
Last but not least, some crypto are designed to solve certain problems through their own proprietary blockchain buildouts. This draws a similarity between crypto developers and 1990s style tech startups. The difference is that many crypto are "open source" and therefore open to changes from a decentralized network of developers. In this manner, investing in crypto is somewhat like investing in early 1990s dotcoms. Some will succeed while others will fail. The trick is in knowing not specifically which coins might be relevant in the future but investing in a stack of coins that hold greater probability for wide scale adoption.

It's also important to remember that some crypto have coin supply limits. This adds scarcity to the picture which can affect its valuations. The less there is, the more valuable it might be; as long as there's demand for it.
Diversifying Your Portfolio with Crypto
Year to date, we see the results of holding Bitcoin (+77%), the S&P 500 Index (+23.83), US Dollar Index (+6.91%), and Gold (-5.69%).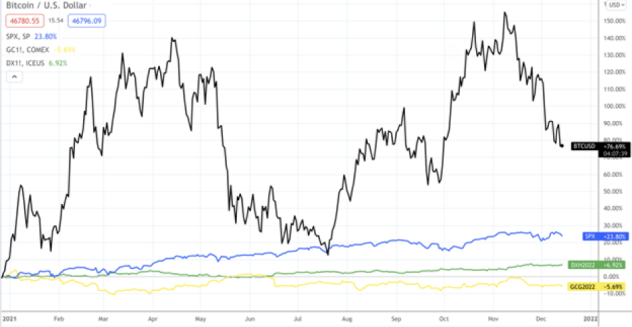 Bitcoin is the obvious outperformer, but it also wins hands down when it comes to volatility; and that's not necessarily a good thing for investors (though it might be for short-term traders). The case, then, for diversification becomes very clear, not only seeking for higher returns but for preventing major drawdowns in any single over-concentrated position.

Perhaps the best approach to holding crypto would be to hold a larger stack of crypto with different fundamental use cases. The chart below shows a basket of diversified crypto.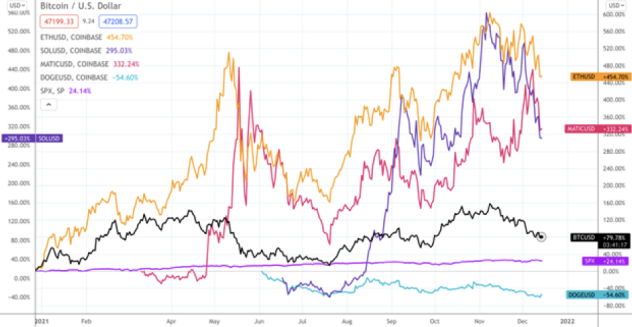 Ethereum (+454%) is leading the stack. Below it are Polygon (+332%) and Solana (+295%). Bitcoin is fourth among the stack (+77%), and the "dog" among them all is, pun intended, Dogecoin (-54%).

Ethereum, Polygon, and Solana are focused on solving several blockchain and verification problems. Their projects and use cases may develop solutions toward scalability, interoperability, energy efficiency, and more. Such areas are critical toward building a foundation for decentralized finance (DeFi), decentralized apps (Dapps), non-fungible token (NFT) economies, and applications concerning smart contracts and other digital data transactions and transmissions.

Bitcoin remains a potential "monetary" candidate. Dogecoin, on the other hand, is what's referred to as a "meme coin" or "sh*tcoin," which was initially developed without a use case but became a popular currency due to hype and some celebrity support (such as Elon Musk).

If this proves anything, it dispels the myth that all crypto are correlated with Bitcoin. To a certain extent, they are, but not enough to discount the value of diversifying the coins in your stack.
The Takeaway
Whatever your investment case might be for trading cryptocurrencies, they can serve as a diversified asset class within your portfolio. Crypto come with their own unique set of opportunities and risks. If you are planning to invest or trade crypto, you might also want to consider diversifying your crypto stack to hedge the risks of a single position and seek opportunity among several coins. What you want to avoid in almost all cases is "overexposure" to a single asset. Besides, it might not be worth putting all your capital on one thing when opportunities abound across several markets.